So I was driving home in the snow last night from a concert, and got pulled over by a bored policeman. He said I had failed to stop at a stop sign. It was a very quiet residential area, with no other moving cars around. I really do not know if I had stopped for it or not. As I had consumed a couple of beers earlier at the show (the equivalent of one beer for most of you), he had me get out of the car, stand on the sidewalk with feet together and follow his fingers with my eyes... my first-ever sobriety test. Another cop car stopped by to see what was up. And I really didn't like it when he stuffed my license, insurance, and registration into his own pocket. A standard intimidation tactic, I'm sure. Who knows—maybe his hands were just cold. I remained cooperative but emotionless, and only spoke to answer his questions honestly and fully. But I thought, "What. In. The. Hell? Here I am, maybe finally about to get a new job offer next week, and I'm going to spend the day of my interview in jail on a frakkin' DUI?"

No breathalyzer ever came into play. He told me to go wait inside my own car, and after a while, brought my papers back, along with a brand-new yellow one. I'll pay the fine by mail next week. But I wonder how many actual DUIs drove by on Broadway while he was off on this side street hasslin' me?

Unfortunately, we had eaten all our Voodoo Doughnuts earlier in the day. Maybe one of these would've helped...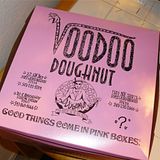 My concert writeup and photos should appear soon on MileHighGayGuy.