Work has eaten me up for the past couple of weeks (the current job, not the new one
yet
), but I wanted to take a moment to let everyone know I'm still here and doing well. We've decorated for Christmas (as much as we plan to), and tonight there's a lot of snow coming down. Maybe a time to relax is coming soon.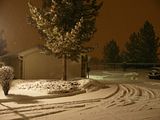 Check out this tree topper my aunt sent!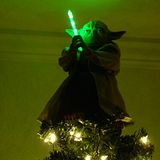 "Christmas Merry!"
Today: the winter solstice. Shortest day of the year, and longest night. Has it already been six whole months since we came home from our summer trip to the Grand Canyon?