Chocolate Chip Sea Star
. Here we see him getting prepped for his new home, through the method of
drip acclimation
. They're very sensitive to sudden changes in salinity, pH, and so forth, so I put him in this bucket and slowly added drops at a time from the main aquarium. After about two hours of this, he was ready to drop into the tank. Once there, he climbed up inside the Buddha, and didn't want to leave. But I coaxed him out with a bit of frozen shrimp (originally meant for me). I held it near his tube feet, which he used to grab the morsel and wiggle it towards his mouth.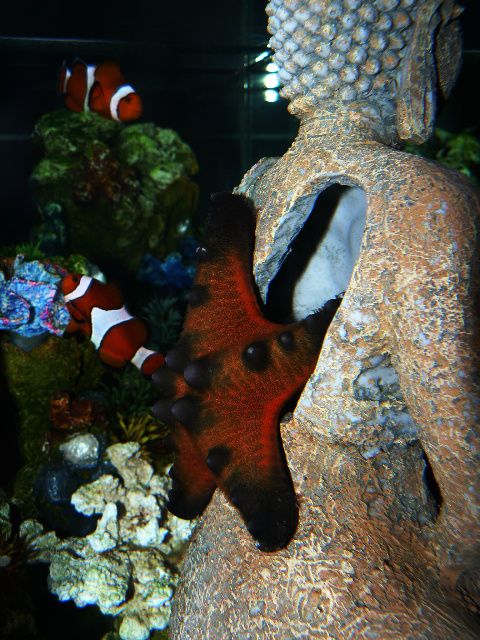 I keep calling him "him", although—as with much marine life—gender has little/no meaning. This species can reproduce asexually, maybe even grow a whole 'nother specimen from a cut-off arm. I have no plans of testing that, though.
In other "star"-related news, I got my ticket for the
Starfest
convention next weekend. Guests will include
Star Trek
actor Jonathan Frakes, and David Prowse, who played Darth Vader.
Meet the latest addition to my aquarium!