When we started planning this trip some months ago, I had rather neglected the fact that an
annular eclipse
would happen on Sunday, May 20. Having seen my fair share of partial solar eclipses over the years, they tend to register as only minor blips to me (I am far more interested in the
total eclipse
that will sweep North America in 2017). If I'd thought about this annular far enough in advance, we might have swapped our 2011 and 2012 itineraries to be better positioned for the full annularity. But it was OK. As usual, I had a plan.
Our travels would keep us along the sidelines, where we could see it as a
partial
eclipse over
Grand Teton National Park
. A few weeks beforehand, I plotted out on Google Earth the perfect place to view the partially-eclipsed sun setting over the mountains.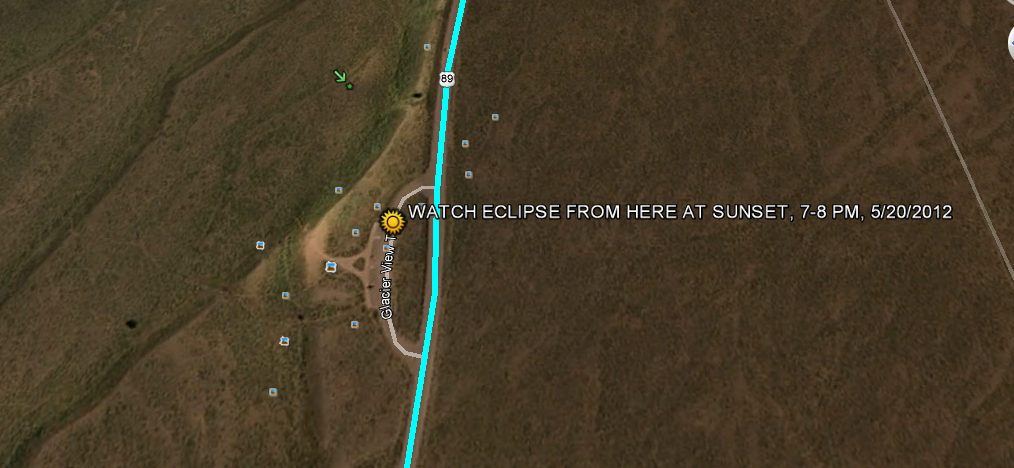 But when you travel Toby-style, the days are
packed
! Before we could reach this point, there'd be a long drive, a campsite to set up, a hike, maybe even a boat ride or two. So we left Vernal, UT before dawn, and headed north. On the way, we passed through the
Flaming Gorge National Recreation Area
, and stopped to admire the
Flaming Gorge Dam
.
right there
.
Spread out in front of the mountain range is a scattering of lakes, including the picturesque Jenny Lake which is home to the park's most popular campground. Reserving a campsite was simple enough; we were fairly in advance of the peak season. Once our claim was staked, we took a ride on a ferry across Jenny Lake to a trail on the far side.
On the far side of the lake, right at the edge of the mountains, is a trail that leads to Hidden Falls, and up to Inspiration Point.


The ferry only runs so many times per day, and if we missed it, we would have a long hike back to our campsite. Fortunately, we caught a ride.


In camp, we set up the tent, and managed a steady enough fire to cook brats for dinner. I had been eyeing the weather nervously all afternoon, wondering if the patchy clouds would clear up for the eclipse. Things weren't looking good.

At least we spotted some wildlife! Shortly after entering the park, we saw a couple of moose (first of those we've seen in the wild). And what better to go with a moose than... a squirrel?


And while we were working on dinner, a child from a neighboring campsite came by and told us a couple of bears were nearby. Again, the first bears we've seen outside a zoo.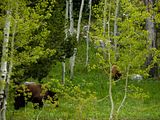 After dinner, we locked away the food and headed out to my planned eclipse spot. The sky was almost completely clouded over. We drove a few miles north, and found a better spot at the Snake River Overlook. There were breaks in the clouds, and a few people who hadn't known an eclipse was happening. We pulled out the camera, binoculars, and solar filters.0
So there you have it: the eclipsed sun setting over the Tetons. We'd had a long day, so it was time to go to the campsite and get some sleep. I had an alarm set so we could catch the sunrise.