Bad Astronomy blog
that there would be a talk at the University of Colorado's Fiske Planetarium by
Luisa Rebull
, a Caltech scientist who is working with the orbiting infrared
Spitzer Space Telescope
. The B.A. mentioned that he himself would be in attendance. I've totally wanted to stalk him since moving here, so I persuaded Tim to go with me to Boulder tonight for the talk.
Also this night, the moon and Venus appeared just a couple of degrees apart from each other, in an IYA2009 event dubbed "
Beauty Without Borders
". So after dinner at Red Robin, we paused to look at them in the parking lot.
Fiske Planetarium
has an interesting exhibit space in its lobby, which gave us something to do while waiting.
Before Dr. Rebull started, I noticed her at the back of the room chatting with someone I was pretty sure was Phil Plait. I made a note of where he sat, and determined to go say hi when the talk was over. I got in a Q during the Q&A, and as the talk concluded, we were invited to go to the neighboring observatory. Phil had been busy signing someone's copy of
Death From The Skies!
, so I just asked his permission for a quick snapshot.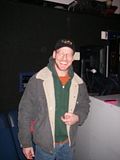 At the observatory, we got to see the Orion Nebula and
Comet Lulin
. Joy Joy.
It was brought to my attention on the