Our last day at
Yellowstone National Park
, we drove along its northern boundary, passing through
Lamar Valley
and out the Northeast Entrance. It seemed we had all sorts of weather at some point during the day, with sun, rain, snow, wind, and lightning at a particularly intimidating moment.
Before we re-entered the park once more, I photographed Montana's so-called "Big Sky". Probably didn't catch it on its best day.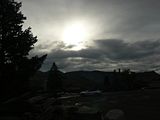 This is Undine Falls, which I keep reading as "Undie Falls".
The majestic
Tower Fall
.
And some wide-open scenes, many of which are peppered with buffalo.
Weather, which had been chilly all day, threatened to pour down on us. Some mountains had fresh dustings of snow. But we took the
Chief Joseph Scenic Highway
up and over the unoffensively-named
Dead Indian Pass
.
Chinese buffet
and the rain caught up with us.An hour and a half later, we reached the town of Thermopolis, home of the world's largest mineral hot spring. Now check out this metal bridge. We really wanted to see whatever was on the other side, but there was lightning. We hurried across anyway, the whole thing shaking underneath us as we went. Yes, the bank looks interesting, but oh—what is that? Hanging from the cliff were hundreds of... BATS. It was like some kind of super-fear experiment: bridges, electricity, bats... wanna throw in some snakes while you're at it? Maybe a T-Rex?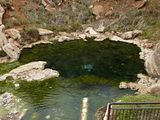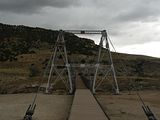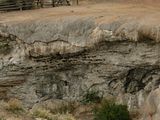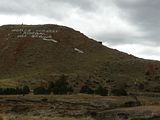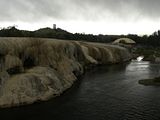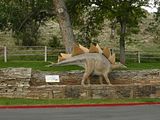 Coming up next time: the final chapter of our vacation!